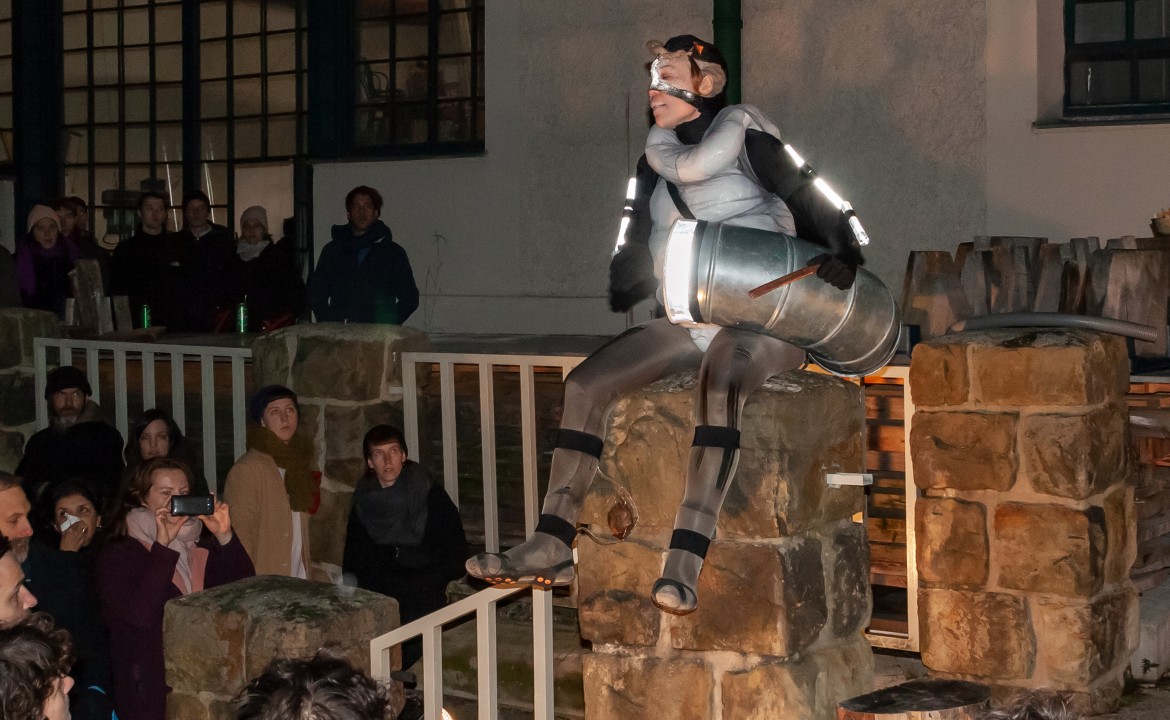 © Cæcilie Heldt Rønnow
A fantasy of a self discussion
Presentation by Cæcilie Heldt Rønnow
…
and the shrimp jumped up high 
because it believed it could fly 
can it be, can it be that I'm free? 
but the poor shrimp crashed
directly into the trash
the shrimp looked up
it's too far to the top
alone, alone in the unknown 
then It heard a sound
and looked around
…
In the performance 'A fantasy of a self discussion' Cæcilie Heldt Rønnow splits up her personality into 5 different characters; a shrimp, an ant, a maggot, a blow fly and a narrator.  The characters are presented in rhythmic rhymes inspired by folktales, hip hop and children's lyrics. Parts of the jester-like costume have a functional role in extending the body and creating different sounds. Together with the gestures and dance moves, the costume and the choreography are used to activate the sound pieces and underline the different elements of the tale.
In this session Caecilie Heldt Rønnnow will present the performance and discuss how she uses storytelling, self reflexion, identity and animals in her works.
---
Cæcilie Heldt Rønnow born 1988 in Copenhagen, Denmark. Lives and works in Berlin and Vienna. She studied at 'Objekt Bildhauerei' at the Academy of Fine Arts Vienna.  Recent exhibitions includes 
Klärschlamm
 at Kunsthalle Exnergasse, AT, 
Mirage 3
 at Viertel Zwei Wien and Galerie Kargl Permanent, AT and 
A fantasy of a self discussion
 at Udstillings stedet Sydhavn station, DK
In the context of exploring questions related to the future of work and what 'a good life' could mean through our 'Artscience practises' seminar this year. What could be an ecological way of working together, also with fish, glaciers, objects, models, or stories? How are we shaping cross-species solidarities and how are they forming us? Through lectures, workshops and excursions we want to investigate different types of relationships between entities and and experiment with assembling strategies through the winter and summer semesters.
---
Join Zoom Meeting
https://zoom.us/j/99118457494?pwd=MnB5QWIvUUgxaEFCTEN2aUMwNVhKdz09
Meeting ID: 991 1845 7494
Password: 945676
One tap mobile
+436703090165,,99118457494# Austria
+43720115988,,99118457494# Austria
Dial by your location
       +43 670 309 0165 Austria
       +43 72 011 5988 Austria
       +43 12 535 501 Austria
       +43 12 535 502 Austria
Meeting ID: 991 1845 7494
Find your local number: 
https://zoom.us/u/aVT2bIrkT
A fantasy of a self discussion
May 11, 2020, 14:00h
Location
Zoom Meeting ID: 991 1845 7494 Password: 945676